Sunday, November 18, 2007
The David Lynch Foundation replied in the comments on YouTube:
David Lynch here. I don't want to have anything to do with Hitler. We all know he was not a good person who did terrible things.

I want to support Invincible Universities to develop the full potential of the student—enlightenment—and to have students meditating together in a group to enliven and radiate the unified field—the field of peace—into the atmosphere, into the collective consciousness of every nation.

Invincibility in this case means dynamic peace—a situation where no harm can come from within the country and nothing destructive can come from the outside to harm the country.

Sometimes misunderstandings are troublesome. So I want to make perfectly clear that the university for enlightenment and peace will make this a peaceful world — a peaceful world family — where anyone can travel anywhere in the world and meet a friend, not an enemy.

Dynamic peace is not just the absence of war—it is the absence of negativity, which is the seeds of war. These universities, established on a permanent basis, will put an end to thousands of years of war and oppression, and prevent a man like Hitler from ever arising again.

Nothing very new there, wonder what will happen to Raja Emanuel Schiffgens.
Meanwhile,
Lynch is denied construction rigts on Teufelsberg
, an
article in TIME - Why David Lynch should learn german
- linked to my little blog, that was fun.
And commentator
Cryptic Clarity
kindly provided
info (in German) on the Raja Emanuel character
and his endeavours in politics and business.
Wednesday, November 14, 2007
UPDATE APRIL 18 2009:
The videos forced off of YouTube by the David Lynch Foundation
Video part 1 of 2
Video part 2 of 2
"We want an invincible Germany! Invincible Germany"
exclaims the "Raja of Germany", dressed in a white robe and golden little crown.

"What do you mean?"
cries the audience.
"Hitler wanted an invincible Germany as well!"

"Yes, but unfortunately he didn't succeed!"

"WHAAAAAAAAAT"?!?!?!?!
David Lynch's Berlin visit yesterday was turned into a chaotic fiasco by his friend, "The Raja of Germany" - dressed like a McDonalds Pope - and either a nazi, nutty as squirrel poop - or simply fully unconscious of the words coming out of his little mouth. Since he just kept repeating the same words when asked to clarify, the two latter seem closest to the truth. The crowd started screaming and booing, David Lynch and his american entourage looking dumbstruck, not having understood a word of the Raja's speech in german. I was happy to catch the unbelievable event on tape...
Lynch had also brought spokespeople for the enlightenment movement / cult called Transcendental Meditation, and announced that the David Lynch Foundation yesterday bought Teufelsberg where it will build the "Invincible Germany University". A place for 1.000 students to learn all there is to learn - plus Transcendental Meditation™ and yoga flying. This will then bring peace and enlightenment to all of Germany...
The first time I heard about the David Lynch Foundation and their fundraising I was happily surprised. There isn't much money being invested in creative or constructive peace research, and who am I to say that meditation wouldn't give people some fresh perspectives and peacefullness. But then I read that it costed $2500 PER STUDENT to teach them Transcendental Meditation ("TM"). That smelled a bit off. And I checked out the TM website. Full of fancy graphs and what looks like bullshit claims of Scientific Proofs of the advances to humanity brought by TM. I googled around and found
some pretty harsh critisisms / cult accusations of TM by former teachers
.
I wanted to ask Lynch what he thought about the critisisms of TM, but when Raja Emanuel of Germany came on stage, no more needed to be said.
Here's how the University / Tower of Invincibility on Teufelsberg is going to look like:
Tuesday, November 13, 2007


Just finished editing the videoclips from the S-Bahn party on friday. At 21.15, an unusually large crowd entered the Berlin Ringbahn heading eastward from Ostkreuz station. When the train left the station, the train turned into a moshpit party, lasting almost all the way 'round the city, bringing the train to a halt one stop before completing the circle...

Enjoy the insanity!
Monday, November 12, 2007
Harvard psychology professor Dan Gilbert finally uncovers the secrets of happiness:
1. Accrue wealth, power and prestige. Then lose it.
2. Spend as much of your life as possible in prison.
3. Make someone else really really rich.
4. Never
ever
join the Beatles.
Enjoy his short little talk from
TED Talks
Thursday, November 08, 2007
The season of cauliflower ice cream is now long gone, high time for a little mushroom picking soundtrack! Enjoy it while you can, the tracks were found through
SeeqPod
and are stored here and there across the webs.
Breathe in the fresh high school air of Mark Mothersbaughs opening from Rushmore, take a stroll through Volkspark Friedrischhain with Do Make Say Think and Joanna Newsom, jump on your bike for a brisk ride through Prenzlauerberg with Sam Prekop and Sondre Lerche, take the tram down Torstrasse with Múm and Efterklang, walk home from Kreuzberg in the wee hours with Blonde Redhead, and soak yourself in a hot bathtub with Chet Baker. That's how I'd do it.
Wednesday, November 07, 2007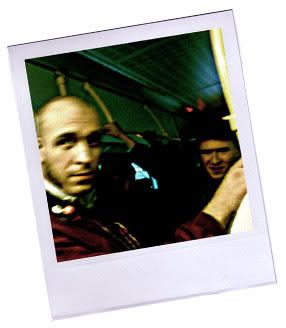 I'm standing in the crowded bus listening to music, when I see someone trying to tell me something. I pull out my left earplug and ask the young gentleman to repeat. "Du siehst scheiße aus". I gather this is a modern urban expression that would translate into something like "You're the shit, man!" I thank him both for the compliment and for teaching me some 2007 german slang, up until now unbeknownst to me, and snap a picture of my new fan, as I reach my stop and have to get off. Hope to see my new friends on the bus again tomorrow!
Monday, November 05, 2007
One of the funniest graphic jobs I've done this year. Poster, flyer & buttons for the "Night Bar" of
Cum2Cut
and the
Pornfilmfestival Berlin
.